Originally published at Highmoon's Ponderings. Please leave any comments there.
The final grades were posted today, so that means that, officially, the Spring 2011 semester is over and done. How did I do? Overall, not bad.
Human Anatomy: B
Human Anatomy Lab: B
Survey of Chemistry: C
Chemistry Lab: B+
When the dust settled, my cumulative GPA is now 3.52.
This was the last semester of my pre-Nursing stage. Yes, I do still need one class, which I am taking now in Summer A, but really, this was it, the one semester with the heavy science classes, and the last one before I put in my application to the Nursing program at FIU by next week.
It wasn't an easy semester, simply because both of these classes were all about memorization of tons of information. Seriously, it's all about learning the info they threw at you by heart as much as possible. Especially Anatomy, these are foundation sciences, so they had a ton of material to cover in little time.
Overall I much preferred Anatomy; though I got a B, it was more due to a problem I'm noticing I have with exams (exam paper blank-out, I call it) than with not knowing the material. In fact, I know it well, and while I'm far from being to recite body parts like my professor, I can recall a huge amount of the anatomical info we covered. And let's face it, this is the class with the Lab where we had four cadavers to study from. Little test tubes simply do not compare.
Chemistry was a nightmare, seriously. If I say that it was my least favorite class in my entire university career I would only be upsetting Statistics at being made to share that title. I found it tedious and of little interest. Though I give the professor credit for trying her best to make the class amenable, and kudos for being really good about explaining things, I have to take points away since she rarely, if ever, brought all that chemistry into the Health Sciences context. This class is specifically for Nursing, OT, PT, Nutrition, Health Sciences students, so you know the topic that is of interest to us: couch the chemistry in terms of our interest! Nope. The result was apathy on my part. Much like I don't care in general how this blog, browser, software work in the back-end, just that they work for me on the user side, that's how I feel about Chemistry.
Could I have done better? Always, really. I gave it my best most of the time, and pushed through the tiredness and despondency when they attacked, and here I am now, done.
A 3.5 is a good GPA, but I don't know if it will be good enough for the Nursing program at FIU. I do have the ace in my hand that is my previous degree, which does add points to my GPA for purposes of their admissions calculations, so I'm hoping that, and my essay on why I wanna be admitted, will do the trick.
Next Tuesday, I start the Nursing Concepts class and next Friday I take the HESI exam (Nursing school entrance test), so I'll report then.
Originally published at Highmoon's Ponderings. Please leave any comments there.
I am honored to report that, through the sale of the RONIN: Japan Earthquake Relief Edition bundle, we have raised $1310.00 in donations to help relief efforts in Japan. The donation was sent via PayPal to the Japanese Red Cross Society on April 10, 2011.
Click to see the full-size version.
It is hard to imagine that it has only been a month since the 9.0 earthquake and ensuing tsunami hit the island nation of Japan. As efforts turn towards the reestablishment of normal life for those affected, it is our hope that this donation can help those in need in some small way.
A very heartfelt thank you to all who participated.
Originally published at Highmoon's Ponderings. Please leave any comments there.
A statement from my latest post on Rebuilding Vampire about the Vampire: The Masquerade character sheet turned into an all-day Twitter discussion about character sheets in RPGs in general. It was a good series of chats, actually, but it highlighted very quickly that I was talking to two different groups of people and that what I wanted to convey about why I said what I said about the VtM sheet was not clear at all for those who lacked a certain context. This post is me trying to explain my views on character sheets and what I see is their role in an RPG. I would love it if from there we can launch a greater conversation about RPG character sheet design in general.
In 2008 I listened to episode 54 of the Master Plan podcast, in which Ryan Macklin interviewed Daniel Solis. The name of that episode, and the idea that was hashed out over the half-hour interview, was that "A Cover Is A Promise." Briefly (and really, you should listen to the episode to get the better explanation), Daniel poses the idea that when looking at the cover of an RPG, it gives the prospective customer a solid idea of either what you will do in the game or an emotion/theme that the game will create; the cover makes a promise of what's to be found inside and in play. That phrase has stuck with me since then, and I have brought it up in various conversations ever since because it speaks to me, and solidifies a feeling I have had about roleplaying games that I simply had no way to voice. Following that line of thought, when I think of character sheets, this is the statement that comes to mind:
A character sheet is a map.
Originally published at Highmoon's Ponderings. Please leave any comments there.
Yes, I know that I wrote a goodbye post to this series earlier this year, but what can I say, events in the last few weeks have conspired to bring this back from the dead (pun firmly intended). I'll talk about the biggest one now.
White Wolf has surprised the gaming world by announcing a very special project to be published later this year, the Vampire: The Masquerade 20th Anniversary Edition, to be released at the Grand Masquerade in September.
This quote from the Basic Design Directives for V20 by Justin Achilli sums it all up beautifully:
Vampire is our crazy ex-girlfriend and we're scrawling her a handwritten note confessing a desperate, to-hell-with-everyone-else kind of love, and she's agreed to give it one more go with us.
Originally published at Highmoon's Ponderings. Please leave any comments there.
Last week, Phil Reed mentioned on Twitter and Tumblr that he'd been thinking about the Battletech CCG from the mid-90s. I recall it perfectly well; I was working at Hobbytown USA at the time and sold it, as well as played it a bit. I like Battletech a lot, and I agree that the CCG was a fun way to engage in the game without the need to have minis and terrain and all that. But then as now, I greatly disliked the collectible aspect. So my reply to Phil on Twitter was, "That's one game I'd like to see in a complete set, not collectible. Maybe deckbuilding?"
Deckbuilding is a type of card game that appeared recently with the game Dominion. In it, instead of starting with a deck of cards and then playing, the object of the game is to build your deck from a common pool. Effects and exceptions make up the rest of the basic idea of this type of game. I played Dominion a couple of times last Gen Con and overall liked it. Since then, there's been a few more deckbuilding games published and now the deckbuilding idea is being applied to dice and other bits as well.
As I said, I liked Dominion just well, but it left me wanting more. When I heard "deckbuilding," the impression that I got was that we'd build the deck then fight it out. Not the case. Dominion, at least the version we played that night, had very little interaction between the players, if at all. It was like a game of 3-way solitaire. I want more. I want conflict in my deckbuilding game.
Originally published at Highmoon's Ponderings. Please leave any comments there.
I was listening last week to episode 18 of Dice + Food + Lodging Podcast, the second part of a conversation between host Tim and guest Robert Bohl. It was an interesting chat all around, but around halfway through the episode they started talking about innovation in gaming, and my ears perked up.
I have a love-hate relationship with that word when it comes to game design. And I'll admit up-front that it's my own baggage, by the way.
As a game designer, I fall squarely in the System Hacker camp; I like to tinker with systems I fall in love with and add fiddly bits to them to make them do extra things that appeal to me. That's why the d20 era was so great for me. As I started to work on my Vampire rebuild, I very quickly copped to my (self-imposed?) limitation saying that I was setting out to put together elements I liked, not to create the Next Big Thing in Gaming (TM). In short, Hey, I'm just messing with existing parts, not creating new ones. I did this because I have never thought of myself as that kind of game designer: I see some of the really nifty ideas-turned-games out there and I appreciate the elements they add to the general gamer/designer toolbox, but never think I can do it as well. Again, my own baggage for another occasion.
The point is that innovation is this bugbear in my game design highway that I constantly feel I need to be on alert for. So when I hear the topic come up in this conversation, it immediately recalls to my mind all these thoughts and feelings. But this time, there was an extra piece that had never been there before.
Originally published at Highmoon's Ponderings. Please leave any comments there.
As I write this, Spring Break is soon to be over and honestly, for all that I'm happy that I had this week off, I'm ready to go back to classes. Don't get me wrong, this mental vacation was needed and appreciated, but after a week off, I've lost my routine and thinking of going back to classes now makes me all bleh. Feeling bleh about my classes is not something I can afford, so I'm looking forward to using this break as a chance to recharge and mount a new, stronger attack upon my classes.
So what did you do during your spring break? Travel? Go to the beach (lord knows Miami Beach has been infested with the lot of you for the past 3 weeks and counting)? I'll tell you what I did. Fundraising.
Originally published at Highmoon's Ponderings. Please leave any comments there.
The north of Japan has been hit by an 8.9 magnitude earthquake, making it one of the strongest earthquakes in Japan's and recent world history. Aftershocks measuring up to 7.1 continued to be felt hours after the initial quake and massive tsunamis have washed over the northern regions of the island, taking cars, boats, houses, lives along the way. Even for a country that is prepared to deal with seismic disasters this is a lot, and help from the world will be needed.
To do our little part, both author Jeremy Puckett and myself, and the good folks at GeekyClean, have decided to put together a bundle.
Buy today the Ronin: JAPAN EARTHQUAKE RELIEF EDITION for only $5.00 and get:
Ronin: Oriental Adventures in Tokugawa Japan
Pathfinder playtest documents for Ronin
A 30% off discount code from GeekyClean.com
Help the people of Japan; if not through us, consider also a $5 donation via DriveThruRPG.
Originally published at Highmoon's Ponderings. Please leave any comments there.
Well, first month and a half, but who's keeping track. Keeping the tradition from my last semester, this one has also been a busy one right from the start.
Over the winter break I started working at the FIU Bookstore, administered by Barnes & Noble, and it's been a great little job. It also means that I've had little time off since the start of classes; if I'm not in class, I'm at work. Which is a good, if tiring, situation to be in. Though the start-of-classes rush has now died down and hours have been scaled back, I was kept past the temp period which bodes well for me. We'll see once March rolls around as that's when they have to make a choice if to keep me or let me go.
As far as classes, I was hoping this would be my last Pre-Nursing semester, but that won't be the case. I am taking:
Human Anatomy
Human Anatomy Demonstration (Lab)
Survey of Chemistry
Chemistry Lab
Originally published at Highmoon's Ponderings. Please leave any comments there.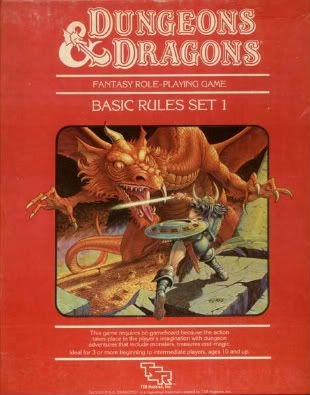 While I haven't been blessed with children yet, I have been given four wonderful nephews, the oldest of which just turned 12 years old. I have been waiting for this day for quite a while now, and with the blowing of the candles (so to speak) the time has arrived for me to play a part of being the most awesome uncle that I have been preparing for all my life: with the arrival of his 12th birthday, I am now introducing my nephew to tabletop roleplaying games.
Why now? I think it's just the simple fact that it was when I was 12 that I was introduced to roleplaying games during the 7th grade; I was able to grasp the concepts of the game perfectly well by that point, so I can reasonable assume that my nephew, who I believe to be smarter at his age than I was at that time, will do so as well. He's grown playing videogames that emulate and in some cases are influenced/descended from D&D, so I think that by now he'll be able to put all those strands together into one thread and see how it all comes together. Lastly, that's the recommended age on the box and hey, why not trust it?
After making the decision that it was time to begin the indoctrination, I went to Amazon.com and ordered him the new D&D Starter Set aka. the new Red Box. Why did I choose this boxed set above any other introductory product, especially considering how I've gone gaga over the Dragon Age RPG? Surprisingly (even to myself, I discovered), I went through a whole thought process to reach this decision.